Browse Journals and Peer-Reviewed Series
ISSN 2159-1474
We thank you for considering the Journal of Inquiry and Action in Education to publish your manuscript. However, at this time, we are not accepting any new submissions. Please revisit our journal website to learn when we will be accepting manuscripts in the future.
Welcome to the Journal of Inquiry and Action in Education, an online, peer-reviewed journal seeking to highlight collaborative research undertaken by university faculty and partner school teachers.
Authors are able to register and submit items to the Journal of Inquiry and Action in Education directly through this website. See the Policies page for a guide to article submissions. Special emphasis will be placed on work that demonstrates the possibilities and potential pitfalls of research efforts describing mutually beneficial work in partner schools.
Submissions should be designated as contributions to one of the following journal sections:
Applied Theory/P-12 Educational Research: well developed and written case studies, high quality action research projects, and more traditional research methodologies in P-12 settings or education related settings, including professional development activities with teachers.
Collaborative Partnerships/Programs: descriptive studies of collaborative/partnership projects that include evidence/data to highlight project strengths and/or shortcomings.
Promising Practices: descriptive studies of classroom activities, strategies, or various interventions that show promise based on data.
Educational Policy: theory and policy-oriented studies with direct bearing on the P-16 educational endeavor in the United States.
This is a peer reviewed journal which is published annually for the NYSRA membership.
Those submitting articles should keep in mind that the NYSRA membership consists primarily of practicing teachers and literacy specialists.
While theoretical and research articles are invited, the editors also encourage articles related to classroom practice, as well as book reviews of professional texts and children's literature.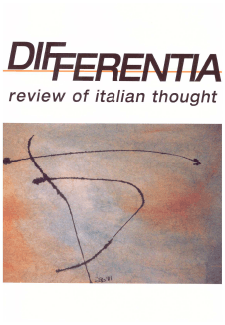 JONMA is a peer-reviewed open access digital research journal published by Stony Brook University. Network Music and Arts utilize the Internet and related technologies as an artistic medium for works created for this platform. JONMA will publish research by artists, technologists, educators, and related scholars. The journal content will include articles, audio and video documentation, and reviews for books and recordings.
JoSE is an online, peer-reviewed academic journal dedicated to research into, and to the practice of, all forms of applied learning as they relate to students' career- and citizenship-readiness. Housed at SUNY Cortland but committed to developing SUNY-wide partnerships, JoSE accepts submissions from faculty, professional staff, and students at every level.
ISSN 2326-439X
This site serves as the archival home for Gandy Dancer. For current issues and submission information, visit www.gandydancer.org.
Gandy Dancer is a literary magazine, available online and in print, that publishes fiction, poetry, creative nonfiction, and visual art. Edited by a rotating staff of students at SUNY Geneseo, Gandy Dancer is published twice yearly.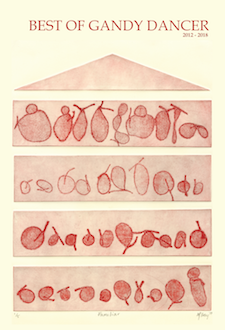 Geneseo Recognizing Excellence, Achievement, & Talent (GREAT) Day is a college-wide symposium celebrating the creative and scholarly endeavors of our students. In addition to recognizing the achievements of our students, the purpose of GREAT Day is to help foster academic excellence, encourage professional development, and build connections within the community.
Established in 2009, Proceedings of GREAT Day compiles and publishes promising student work presented at SUNY Geneseo's GREAT Day symposium. The projects, presentations, and research included here represent the academic rigor, multidisciplinary study, and creativity of the students taking part in the SUNY Geneseo GREAT Day symposium.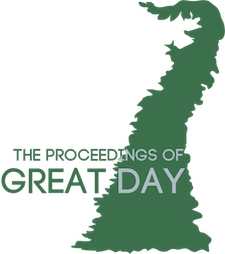 Mission: The SSWSJ is committed to furthering the accomplishments of the School of Social Welfare students, sharing and connecting the knowledge and ideas cultivated at UAlbany, which incorporate social work practice, theory and research to enhance and impact our society. Our primary goal is to highlight the work of all students by featuring student writing across the BSW, MSW, and PhD programs. Students are encouraged to submit a range of manuscripts touching practice, policy, and research, including assignments completed as part of their coursework. Each submission is evaluated by student reviewers through a double-blind process, and final acceptance decisions are made by the editors, in consultation with the faculty advisors.
ISSN 1931-8936
JLAMS is an open-access journal providing an outlet for the dissemination of ideas, articles, academic papers, and essays of interest to library leaders at all levels and of all types of libraries. JLAMS is refereed, although other contributions are accepted.
For information regarding submissions, please contact: Amanda E. Perrine, LAMS President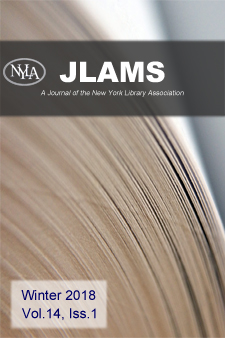 ISSN 1528-3844
The Journal for MultiMedia History: Peer Reviewed MultiMedia History.
The JMMH relaunch is underway.
The journal is accepting multimedia history projects for peer review. The JMMH also accepts reviews of pertinent works and analyses of the multimedia history field. Use the submission link to the left, and stay tuned for forthcoming issues.