Browse Journals and Peer-Reviewed Series
ISSN 2159-1474
Welcome to the Journal of Inquiry and Action in Education, an online, peer-reviewed journal seeking to highlight collaborative research undertaken by university faculty and partner school teachers.
Authors are able to register and submit items to the Journal of Inquiry and Action in Education directly through this website. See the Policies page for a guide to article submissions. Special emphasis will be placed on work that demonstrates the possibilities and potential pitfalls of research efforts describing mutually beneficial work in partner schools.
Submissions should be designated as contributions to one of the following journal sections:
Applied Theory/P-12 Educational Research: well developed and written case studies, high quality action research projects, and more traditional research methodologies in P-12 settings or education related settings, including professional development activities with teachers.
Collaborative Partnerships/Programs: descriptive studies of collaborative/partnership projects that include evidence/data to highlight project strengths and/or shortcomings.
Promising Practices: descriptive studies of classroom activities, strategies, or various interventions that show promise based on data.
Educational Policy: theory and policy-oriented studies with direct bearing on the P-16 educational endeavor in the United States.
This is a peer reviewed journal which is published annually for the NYSRA membership.
Those submitting articles should keep in mind that the NYSRA membership consists primarily of practicing teachers and literacy specialists.
While theoretical and research articles are invited, the editors also encourage articles related to classroom practice, as well as book reviews of professional texts and children's literature.
ISSN 1931-8936
JLAMS is an open-access journal providing an outlet for the dissemination of ideas, articles, academic papers, and essays of interest to library leaders at all levels and of all types of libraries. JLAMS is refereed, although other contributions are accepted.
For information regarding submissions, please contact: Amanda E. Perrine, LAMS President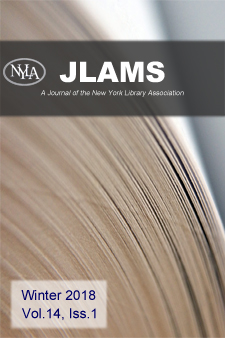 ISSN 1528-3844
The Journal for MultiMedia History: Peer Reviewed MultiMedia History.
The JMMH relaunch is underway.
The journal is accepting multimedia history projects for peer review. The JMMH also accepts reviews of pertinent works and analyses of the multimedia history field. Use the submission link to the left, and stay tuned for forthcoming issues.